Alice In Wonderland
Join Alice on her amazing journey through Wonderland and experience an adventure like no other.This school holidays, tumble down the rabbit hole as the Australian Shakespeare Company presents Lewis Carroll's absurd & wickedly clever classic - Alice in Wonderland. Brought to life beautifully in Glenn Elston's highly acclaimed production, this familiar tale is stunningly lifted right from the pages. Your favourite assortment of curious characters are all waiting for you... meet the skittish, constantly late White Rabbit, sing along with the Dodo and other birds in the Caucus race and meet the pepper-obsessed Duchess and her extremely crazy cook. The Cheshire Cat will leave you with a grin and you can't fail to miss Humpty Dumpty on his way to meet Tweedledum and Tweedledee. And what might seem slightly silly, becomes downright absurd as the Mad Hatter arrives with the March Hare and Dormouse to have a grand old time with Alice at the tea party. This enchanting world of song, dance & interactive games will have the whole family dizzy & giddy with nonsense! PLEASE NOTE: Children age 2 years and over require a ticket. Anyone under the age of 2 is free.
Sale Botanic Gardens
Sale Botanic Gardens
Bluey's Big Play
See Bluey, Bingo, Mum and Dad as you've never seen them before… Join The Heelers in their first live theatre show created just for you with puppetry, live actors and iconic Australian sets. It's a little bit different and a little bit beautiful. Bluey's Big Play is an original story written by Bluey's creator Joe Brumm with new music created by Brisbane's Beethoven and Bluey composer, Joff Bush. This is an experience you can only take home with you in your memory so please remember to bring that along with your tickets. Bluey's Big Play is presented by BBC Studios and Andrew Kay in association with QPAC's Out of The Box and Windmill Theatre Co.
The Wedge Performing Arts Centre
John Leslie Theatre
Echoes of Pink Floyd
After a well-earned break, Australia's largest scale Pink Floyd concept act Echoes of Pink Floyd are pleased to announce their all-new show for 2021! Entitled "A Journey Through Time", the Adelaide-based band's latest show will take audiences on a musical and visual journey from Pink Floyd's earliest days as darlings of 1960's London's psychedelic underground, all the way to their 1990's powerhouse performances as the undisputed masters of stadium rock. In addition, the show will provide insight into the amazing evolution of the seminal English prog rockers throughout their history. The searing, soaring music and heart-wrenching but deeply contemplative lyrics reflecting Pink Floyd's own journey as they charted their way through life's twists and turns, triumphs and disappointments. Audiences will be treated to an extensive exploration of the band's impressive catalogue as the gang from Echoes of Pink Floyd plays all of Pink Floyd's biggest smash hits, as well as some lovingly hand-picked deep album cuts designed to please the most committed of hard-core fans.
The Wedge Performing Arts Centre
John Leslie Theatre
John Williamson 'Winding Back' - Celebrating 50 + Years
In 2021 Australian music icon John Williamson will celebrate his 51st anniversary in the entertainment industry and foresee closing the book on his regular touring. Half a century on, John Williamson has made an art of expertly capturing Australia in song. Painting lyrical pictures of our unique fauna and flora, landscapes and people, John has encapsulated the beauty, wonder and, sometimes, heartbreak of life Down Under. From boabs to billabongs and snowy mountains to sandy beaches, the Mallee-born songwriter's 52 albums­–including 20 original studio albums–have traversed Australia like a dust-covered road train, deftly moving between larrikin humour and touching pathos. 'The Winding Back Tour' takes is coming to The Wedge in February 2022 - get your tickets today and don't miss out!
The Wedge Performing Arts Centre
John Leslie Theatre
INXSIVE
INXSIVE, THE INXS TRIBUTE SHOW INXS helped shape the musical landscape of the 80's and 90's. Their infectious blend of dance/rock saw them conquer the music charts not only in Australia, but worldwide. They built a reputation for staging electric and engaging concerts, fronted by their wildly charismatic and talented frontman, Michael Hutchence. INXSIVE are a Melbourne based band that have been touring Australia wide performing in live music venues, theatres, private and corporate events, and larger outdoor festivals since their inception in the late 90's. Their full production sound combined with energetic audience engaging performances make INXSIVE Australia's leading INXS tribute show, and an excellent live entertainment option for any venue or event. Their repertoire encompasses all the smash hits from the impressive INXS back catalogue, and a performance by INXSIVE needs to be seen to be believed. They regularly receive rave reviews from their audiences on how closely they capture the sound and style of INXS. INXSIVE are a must-see for all INXS fans and lovers of classic Australian Rock music!
The Wedge Performing Arts Centre
John Leslie Theatre
The Big Chill
A fantastic show including songs from the original motion picture! The Big Chill is a film in which survivors of the 1960s ask themselves how they could possibly be in their thirties. Just as survivors of the 90s ask how could they possibly be still alive in their fifties. The one thing that all generations have is the soundtrack that accompanied their rush towards the inevitable. It means everything. Great songs are great songs and no matter how old or young you are these songs are definitely great. The Big Chill stars the incredible Karise Eden, with special guest Mick Moriarty, accompanied by John Grant and The Big Chill Band. This is sure to be a great night of music and entertainment.
The Wedge Performing Arts Centre
John Leslie Theatre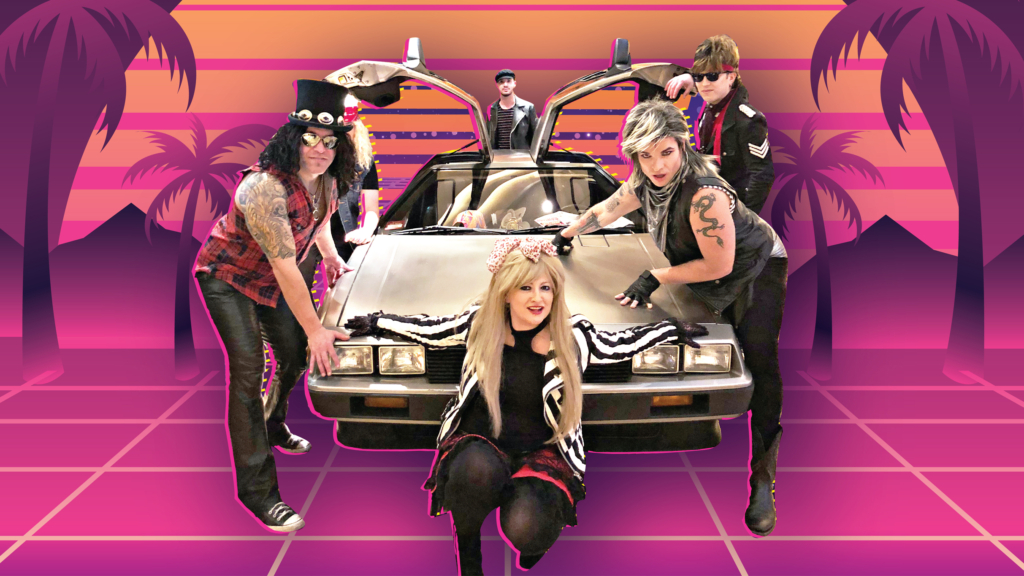 REWIND 80's MIXTAPE TOUR
It's on like Donkey Kong! With their retro hits, cherry lips and high kicks, Rewind 80's take the stage performing tunes from one of music's most iconic eras - the sensational eighties! The multi-piece live band pays homage to the rock, pop and new romantic artists that had you screaming in front of a television set as you watched MTV as a kid. This is a show not to be missed with its high fashion 80's glamour, head flicks and synthesizers. If you want to put the 80's in a nutshell - it would be the big hair, excess fashion, incredible music, walkman and the mixtape just to name a few. It was the love letter of the 80's, it was the mixtape! Get your tickets for a ripper night...
The Wedge Performing Arts Centre
John Leslie Theatre
Mamma Mia!
Maffra Dramatic Society Inc. proudly presents Mamma Mia! The ABBA extravaganza is finally arriving at The Wedge! Sophie Sheridan is twenty-years-old and lives with her mother Donna on an exotic Greek island. She is about to be married and wishes for only one thing: that her father walks her down the aisle and gives her away. The only problem is that she doesn't know who her father is, and her mother won't discuss it with her. After she finds her Mum's diary from the year she was born, she invites three men who could possibly be her father. Sophie is convinced that she will know her father as soon as she sees him but soon realises that she doesn't have a clue. Mayhem ensues when her mother is displeased and confused that the three are there, and the three men all think they're the father.
The Wedge Performing Arts Centre
John Leslie Theatre
Tom Burlinson - Now We're Swingin
Tom has delved even deeper into the Great American Song Book to create Now We're Swingin', a montage of swing classics by Tony Bennett, Sammy Davis Jr, Nat King Cole, Dean Martin, Bobby Darin and Frank Sinatra, through to the songs made famous by supercool swingers of the current era - Harry Connick Jr, Michael Bublé and Robbie Williams. Tom's show includes the greatest songs from the era of swing, and the ones for which the individual singers became best known. Accompanying Tom on stage will be an eight piece band, including some of Australia's best jazz musicians.
The Wedge Performing Arts Centre
John Leslie Theatre
Robertson Brothers 1960's Variety TV Show
Do you dream of reliving the good old days? Well don't miss THE ROBERTSON BROTHERS 1960's TV VARIETY SHOW with special guest Simon Brook McLachlan - from the original cast of the hit musical Jersey Boys. The boys are back with a brand new show! Take a trip down memory lane with this amazing interactive live TV Variety Show featuring the hits from: The Seekers, Bee Gees, Frankie Valli and The Four Seasons, Neil Sedaka and The Everly Brothers! The Robertson Brothers grew up in a home that appreciated the Variety TV Show. When designing this new live touring show they decided to reinvent the magic and diversity of the old school 1960's Variety TV shows. With an amazing multimedia presentation, expect to be entertained by many of the Classic Hits from the 60's. Through the prism of the Variety TV show format you'll travel back in time to embrace and celebrate the hits of these 60's Music Legends. You'll be singing, dancing, laughing and crying to 'Georgy Girl', 'Morningtown Ride', 'I'll Never Find Another You', 'Oh Carol', 'Calendar Girl', 'Happy Birthday Sweet 16', 'Spicks and Specks', 'To Love Somebody', 'Massachusetts', 'I Started A Joke', 'Got To Get A Message To You', 'Sherry', 'Walk Like A Man', 'Big Girls Don't Cry', 'Let's Hang On', 'Bye Bye Love', 'Wake Up Little Susie', 'All I Have To Do Is Dream', 'Cathy's Clown', 'Bus Stop', plus so many more in this celebration of your favourite 60's Superstars!
The Wedge Performing Arts Centre
John Leslie Theatre
A Taste of Ireland
Hot off its premiere New York City run in 2020 and with over 120 shows in 2019 across Australia and New Zealand, 'A Taste of Ireland – The Irish Music & Dance Sensation' finally returns down under. With revamped classics like 'Danny Boy' and 'Tell Me Ma', the show's live, energetic blend ofwell-known tunes, jaw-dropping acapella tap battles, world-class dancing, melodic folk musicmash-ups and craic galore transports you through the story of Ireland's tumultuous history,complimented by stunning production and lighting. Starring dancers from the West End's Lord of the Dance, Riverdance, & Gaelforce Dancealongside a treasure trove of Irish Dancing World Champions, 'A Taste of Ireland' delivers thevery best talent in the nation.
The Wedge Performing Arts Centre
John Leslie Theatre
The Original Rockin' Through The Ages
Attention all Baby Boomers – get ready to feel the nostalgia dialled up to 11 when The Original Rock Through the Ages delivers a show packed with the music, media and memories of your heyday.  This fantastic multimedia show combines an all-star live band, original music clips, side-splitting vintage tv commercials and a nod to the cultural touchstones of the 50's 60's and 70's.  You'll be singing along to classic hits of Elvis Presley, Roy Orbison, Neil Diamond and Tom Jones, and re-living the heady anthems of Daddy Cool, The Monkee's, Dr. Hook and many more favourites of the sensational 70's. Don't miss this blast from the past when life was simpler, and there was plenty to dance, sing and smile about. You're invited to come and Rock Through the Ages in an unforgettable night of the best music and moments since Rock and Roll was born!
The Wedge Performing Arts Centre
John Leslie Theatre
Leaving Jackson - The Johnny Cash & June Carter Show
Take a step back in time to when country music told a true story of life, love and heartache. From the famous Walk The Line and Folsom Prison Blues to the iconic Ring of Fire. For more than 40 years Johnny Cash and June Carter enthralled audiences around the world with their songs of life, love and heartache. A love story played out through some of the greatest songs ever written. Now JEFF CARTER together with BROOKE McMULLEN bring to life a captivating and unforgettable musical concert. These two talented performers share a very special onstage rapport, perfectly recreating the dynamic Johnny and June shared. This 2 hour live concert event "LEAVING JACKSON" The Johnny Cash & June Carter show will have you singing, laughing and crying for more.
The Wedge Performing Arts Centre
John Leslie Theatre
World of Musicals
The Music Gala with an International cast brings London's West End and New York's Broadway return to Australia with a brand-new show. The World of Musicals brings the very best of Musical theatre to life. This incredible production with the wonderful revue of all your favorite musical theatre hits which include such classics as, The Lion King, Fiddler on the roof , Mamma Mia, We Will Rock You, The Mikado, The Pirates of Penzance, HMS Pinafore, The Phantom of the Opera, West Side Story, Cats, Evita, Wicked, The Rocky Horror Picture show, Jesus Christ Superstar, The Greatest Showman, Jersey Boys, Oklahoma, South Pacific , Miss Saigon, The Boy from OZ, Hairspray, Les Misérables, The Blues Brothers. The World of Musicals is colourful, inspiring and memorable musical classics, all performed by an International star-studded cast, presenting the audience with nightly entertainment at the highest level.
The Wedge Performing Arts Centre
John Leslie Theatre
The Australian Bee Gees Show
Fresh from celebrating 9 years and over 2800 shows headlining on the Las Vegas strip, the Australian Bee Gees Show will be heading Down Under for the Australian leg of their 25th anniversary tour! This new show will be presented in two parts and feature all of the hits in a nostalgic trip down memory lane in a multimedia concert event. The Australian Bee Gees Show is currently performing at The Excalibur Hotel and Casino and has been in residence for the past 9 years and have just signed a new 5-year contract that will keep the ABGShow headlining in Las Vegas until 2024. The group has racked up over 2800 performances on the Las Vegas Strip and was recently voted Best Tribute Show in Las Vegas by the prestigious Las Vegas Review Journal and has made the top 10 in the 'Overall Best Show' category, an amazing achievement in Las Vegas. The Australian Bee Gees show was also the first Australian band to perform 1000 shows headlining on the Famous Las Vegas Strip and with 2800 shows already under their belt in Vegas alone they are looking forward to continued success in Sin City. After 25 years on the world stage and over 8,000 performances in over 60 countries, The Australian Bee Gees Show has evolved to become the definitive live celebration of the wonderful music written by the Brothers Gibb. From their first shows in 1995, The Australian Bee Gees Show has conquered Las Vegas and has played to capacity houses around the world, cementing their reputation as an exceptional live concert act and the world's leading Bee Gees Show. For one night only be a part of the magic that is, The Australian Bee Gees Show.
The Wedge Performing Arts Centre
John Leslie Theatre
A Taste of Tamworth
Four Multi- Award-Winning acts coming together for one big concert only happens once a year and that's with the Taste of Tamworth! With Carter & Carter, Jetty Road, Andrew Smith and Anthony Taylor, this is sure to be a great line up. Each act brings their own unique form of music and personality to the stage and then team up for a fun filled finale. This show has a respected reputation for providing a high-quality taste of Australia's largest festival Tamworth – a taste that keeps people coming back for more. Come along and be part of the Tamworth experience as the artists launch into a string of their National #1 hits and some well-known favourites.
The Wedge Performing Arts Centre
John Leslie Theatre
Margaret Fulton The Musical
A musical biography of a true Aussie legend based on her bestselling autobiography. Margaret Fulton reigned supreme on our country's cooking scene, awareded an OAM in 1983 and later identified as a National Living Treasure. The Margaret Fulton Cookbook encouraged Australian housewives to experiment with more interesting ingredients, straying from the old tradition of meat and three veg. This delightful musical romp follows her journey from humble beginnings to super-stardom.
The Wedge Performing Arts Centre
John Leslie Theatre
Absolutely 80's Made in Australia Concert
Without doubt, the 80s was the most memorable and massive decade of music. The Absolutely 80s 'Made in Australia Tour' is the ultimate celebration of Aussie 80s mega hits. It's a show-stopping spectacle of epic proportions. Coming to you direct from the 80s, idols of the Oz music scene are touring with their band in one massive Down Under show! Featuring some of Australia's favourite 80's pop icons: Uncanny X Men's Brian Mannix, Kids in the Kitchen's Scott Carne and the Chantoozies' Ally Fowler. It's a high-octane two-hour show with Australia's biggest 80s hits, sung by the 80s stars who know how to hold the crowd in awe and whip up 'em up into a dancing, singalong frenzy.
The Wedge Performing Arts Centre
John Leslie Theatre
Fragments
After two years, Scimm. Dance Professional returns to the stage with its first performance season since 2019. 'Fragments' features brand new choreography by Scimm. Dance Company directors Scott Pokorny and Tim Barnes in a variety of small works and pieces showcasing the exceptionally talented dancers of the company. The performance will feature new music composed by Tiarn Courtice and new choreography by Melissa Pham. In our universe, matter is constant – it can never be created or destroyed. Through its continuous change, it is always conserved. The same law applies to all of us. As we constantly evolve, we are bursting with energy and explosive potential. 'Fragments' explores this concept and asks the question – is our world in pieces, or are we pieces in this world?
The Wedge Performing Arts Centre
John Leslie Theatre